Autumn Corsage 
The bride has so many options to choose from for flowers, why not give the groom a chance to have some beautiful fall flowers by having some autumn themed corsages. Dried flowers, cotton, mums and any other red, orange or yellow details will make them perfect fall corsage! Tip: add some lace wrapped in it to make them look a little more vintage.
Fall Dessert Spread
If you're going to have a fall wedding, you have to have at least one fall dessert! Creating a spread at your wedding will give you the opportunity to share a multitude of fall desserts, but also give your guests some options they can choose from!
Pumpkin Centerpieces
This may not be everyones cup of tea, but having pumpkins at your fall themed wedding can look beautiful! Pumpkin vases filled with flowers or decorated around the venue can give you a fun pumpkin patch theme.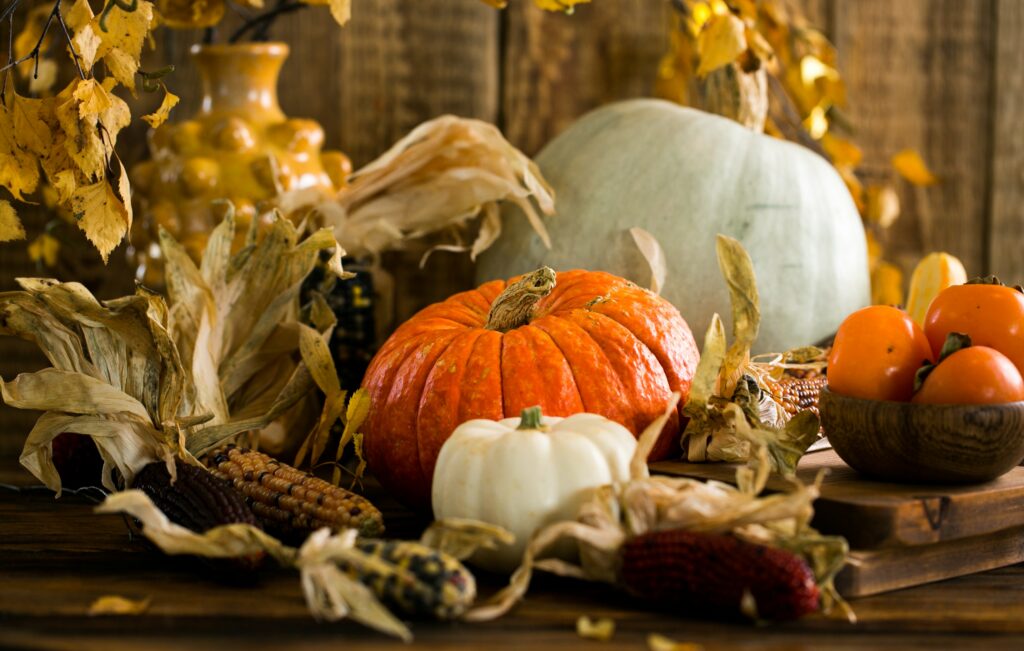 Fall Themed Favours
There are so many wedding favour ideas out there that could work, but having some fall inspired ones will make the whole theme come together! Having thoughtful and useful favours like hot chocolate favours, a "fill up a box" gift from the dessert table, or even themed small bottles of wine with customized labels special to your wedding can be great fall ideas!
Rustic Wedding Invitations
Everyone loves a good rustic or vintage style wedding, and fall is the perfect time to add this style into your wedding! 
Mercury Glass
Mercury glass is definitely becoming a trendy decor item for fall, for a good reason! If you can find some wine glasses or vases that are mercury glass, it is sure to give some dreamy and moody fall vibes to your wedding!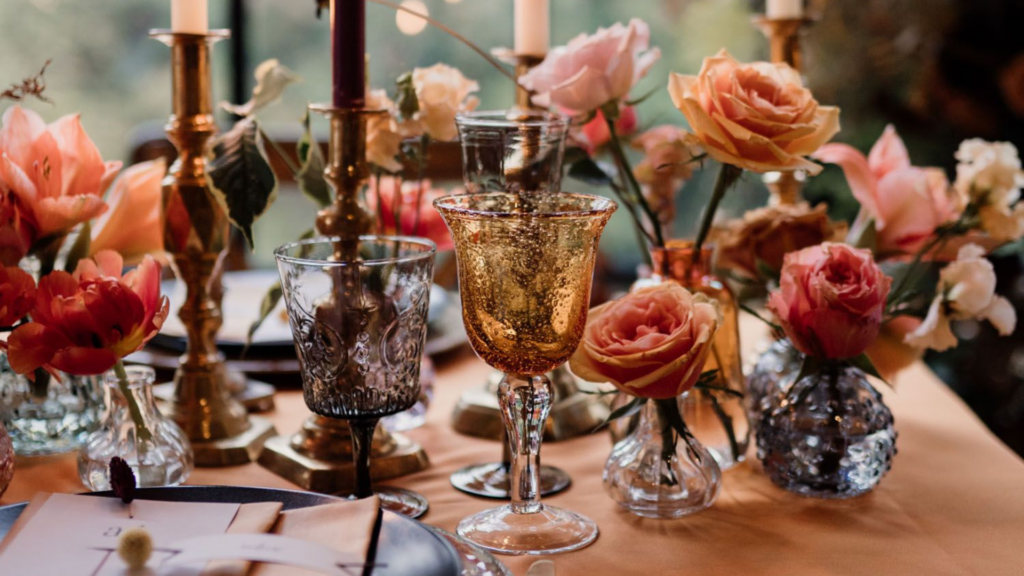 Velvets, Leather & Satins
Not that you need all three, but adding one or more of these materials can make your wedding feel luxurious and warm for fall! 
Bouquet Bar
Another wedding favour idea is having a flower bouquet bar where your guests can fill a vase with some fall flowers! It is non-traditional, but is always a hit for fall weddings! That was everyone gets to enjoy a little piece of the wedding for a little longer. 
Cottage Core Decorations
Cottagecore decor is very popular right now. If you're not familiar with it, cottagecore is a design of exactly what it sounds like, cottage themed! Tons of flowers, rustic, rural lifestyle, old-fashioned type of style with a traditional theme. Subtle hints of these can make your fall wedding look dreamy!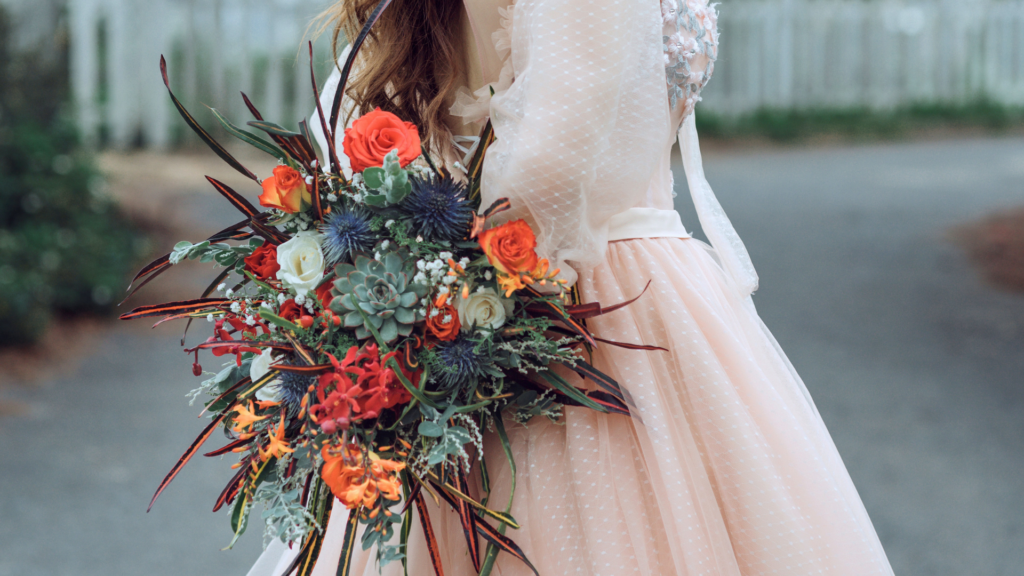 Sunset Tones and Colours
Not sure what colour palette you want for your fall themed wedding? You can't go wrong with autumn, sunset or pumpkin hues!
Vintage Rugs At The Alter
This may be a unique and non-traditional idea, but we love it! This can make your cottagecore theme come to life by creating a warm and comforting setting for your wedding.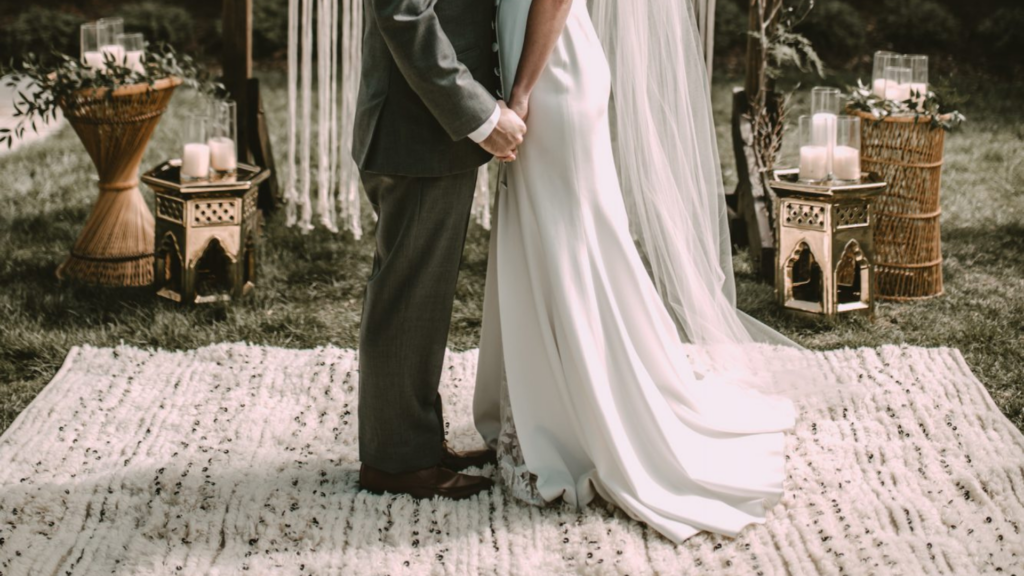 Fall Flower Arch
This one can come as an obvious one, but we wanted to include all the types of fall flowers that would look amazing in a fall flower arch! Mums, sunflowers, cotton, lily, african daisies, baby breath, dahlias and pansies are all some great options to add to your fall themed wedding arch!