Ready to start planning the music for your wedding day? Use our online planner tool! The Impact DJ "Wedding Planner" tool will help you plan your wedding music and customize the aspects that are important to you!
Below is a step-by-step guide to using the Impact DJ "Wedding Planner" tool.
Step 1: Find The Impact DJ "Wedding Planner" 
On the Impact DJ website, go the top menu under "Planning" and select "Wedding Planner".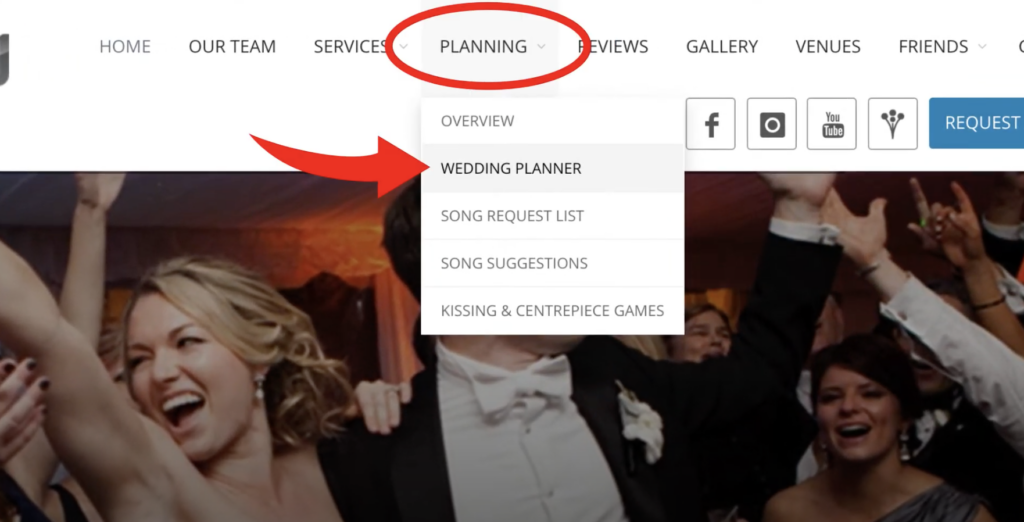 Step 2: Put Down Your Information
Now that you have made it to the Wedding Planner, you can start entering some basic information about you and your wedding! Including you and your partner's name, phone number and the reception location.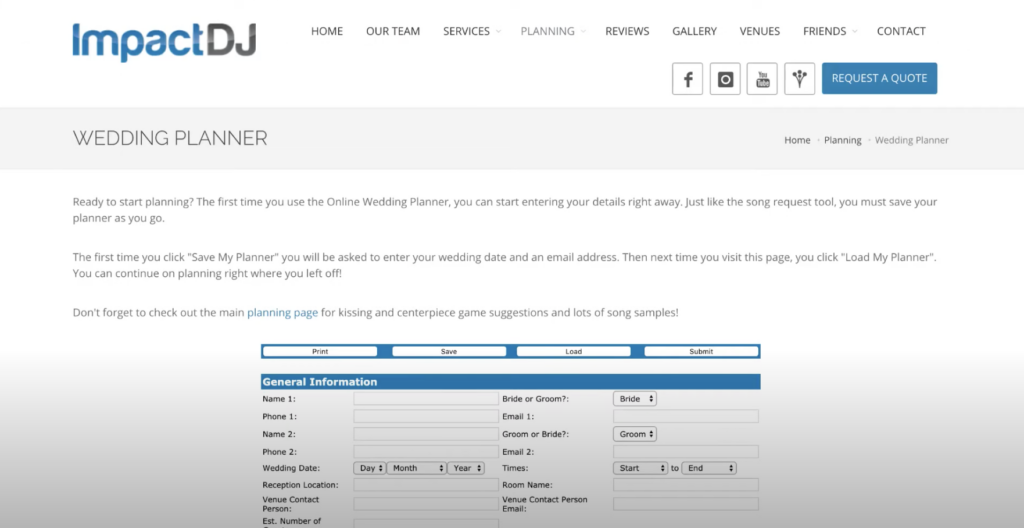 Step 3: Enter The Main Details For Your Wedding
Under the "Ceremony" and "Cocktails and Dinner" section, scroll through the form and enter any or all of the details that you need for your big day! Details like your itinerary, music and more are added here.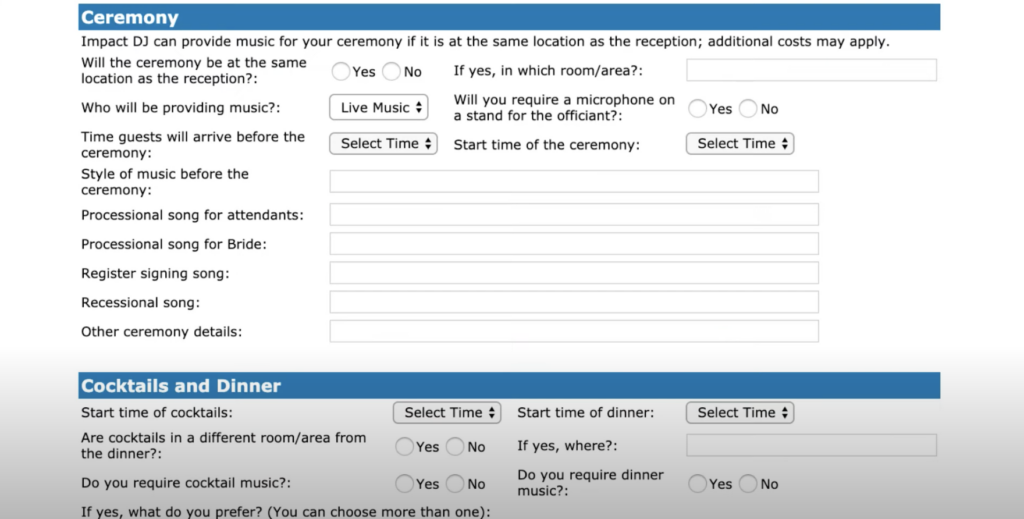 Step 4: "Formal Dances" Section
Once you have filled in some of the basic details for your wedding, one of the key sections for you to fill out is your "Formal Dances" information, like your first dance, father-daughter dance and other combinations.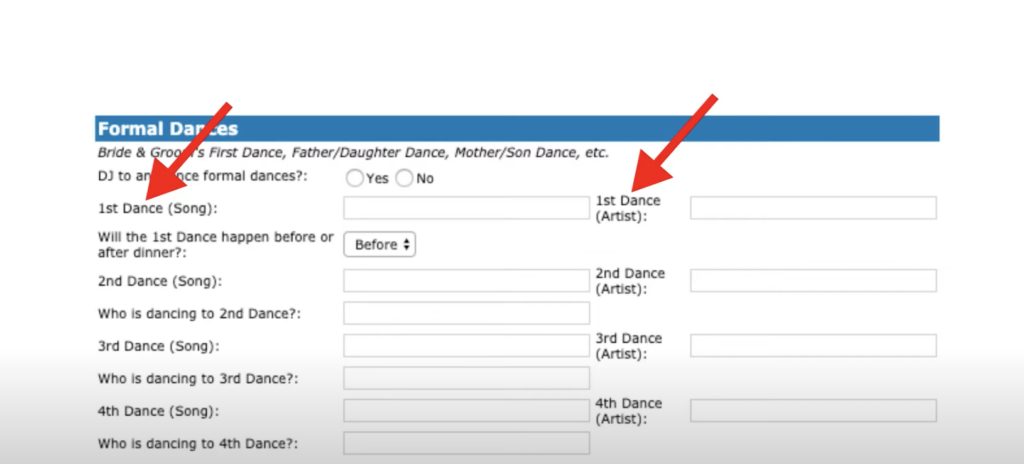 Step 5: Tell us Your Music Style! 
The next step under "Dance Music" is to tell us your preferred styles of music! Below are different types of genres, with some examples, and how much of these genres you want to hear. You can choose between "Few", "Some", "Lots" and "None" as choices!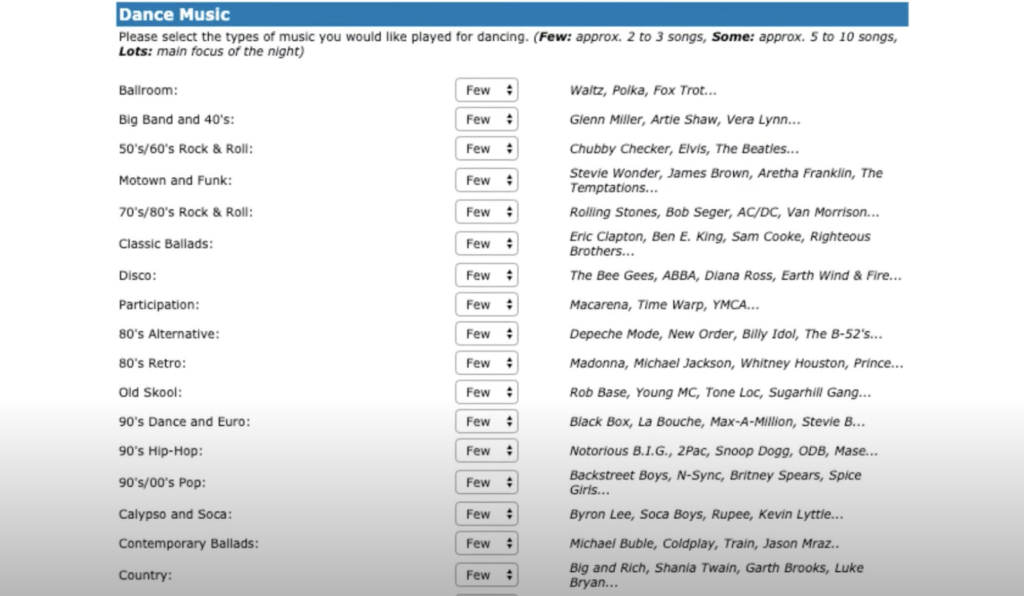 Step 6: Save Your Impact DJ Wedding Planner
Now that you have finished using the Impact DJ "Wedding Planner", make sure to press the "Save" button. If you haven't finished yet, you can work on the form over a period of time that works for you. Make sure no matter what, that you save your work! Later, you can pick up from where you left off by pressing the "Load" button.
Step 7: Submit Your Wedding Planner! 
When you are finished with the forms, please remember to hit the "Submit" button! Please submit your form 3-4 weeks prior to your wedding day. You did it! Our team will review your form and get in touch with you about your wedding! 
Step 8: Use Impact DJ's "Song Suggestions" and "Kissing & Centrepiece Games"
If you need a little help with choosing a song or games for your wedding, use our Song Suggestions or Kissing & Centrepiece Games list! Our Song Suggestions list includes great songs to use for the wedding ceremony, recession, procession, signing of the register, and pre-ceremony background music.  
We have also included our Kissing & Centrepiece Game list of fun ideas to play at your wedding to entertain your guests!