Your wedding is a special day about you and your partner. This means including all of your friends, family and loved ones on your wedding day to celebrate with you. That being said, in the last year and a half, tons of weddings have been postponed or cancelled due to the pandemic, as well as travel restrictions. This makes it difficult to plan, celebrate and enjoy the special day that is you and your partner's wedding!
That's why Impact DJ Wedcasts has been extremely beneficial to the many couples who have decided not to postpone or cancel but continue their big day as a wedcast!

What Is A Wedcast?
Wedcasts are a great way to broadcast your wedding, virtually! Through the Impact DJ virtual platform, your guests watch and follow your big day from home! Including the ceremony, reception, first dance, speeches, and anything else that has been planned for your wedding.
If some of you cherished guests are not able to attend due to attendance restrictions, or there are family and friends who can't attend cannot attend in person, this is a great option for your wedding! 
With the Impact DJ wedcast, we offer a hybrid mix of live and virtual services ideal for a time of social distancing and travel restrictions. 
How Does a Wedcast Work?
Utilizing a high definition camera feed, a professional grade microphone, and the latest streaming technology, we will broadcast your wedding to the people you want close, no matter how far they are. Let us show you how and what that can look like for your virtual wedcast!
Before your wedcast day, Impact DJ will create a personalized URL for you and your significant other that can be easily accessed by anyone on your guest list. Your wedcast can be watched from a phone, computer or tablet from home to make your guest's experience as easy and accessible as possible! 
Below is a sample of our login page on your custom portal. You can share a password to access the broadcast, and after the event you will receive analytics showing who logged in and their respective email accounts. You have the option to have a global password for everyone to use or you can have your guests pre-register for the event and receive unique passwords.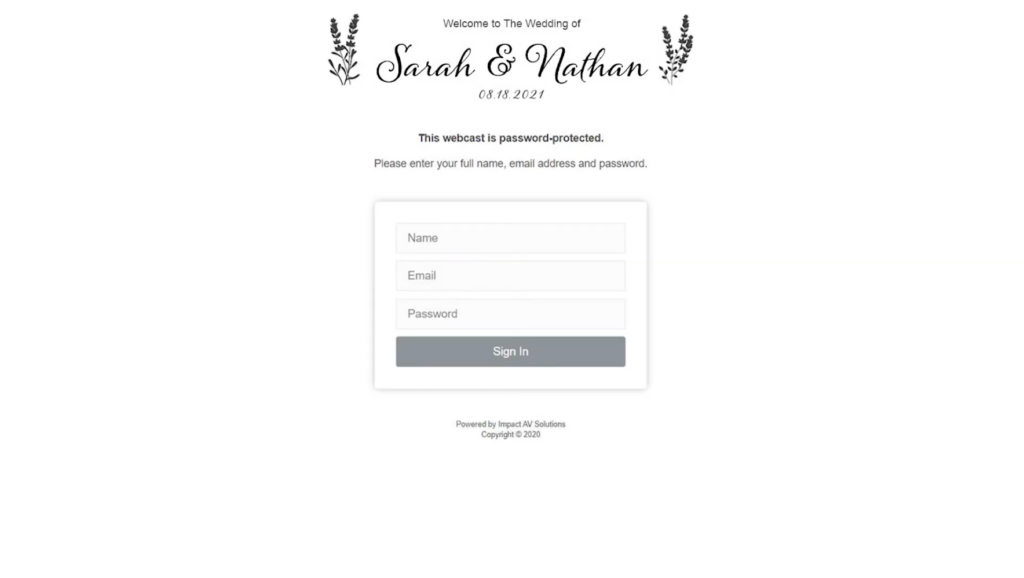 Once logged in, there will be a video or slideshow of your choosing. This lets your at-home, online audience know that they are connected and that they can both see and hear the broadcast.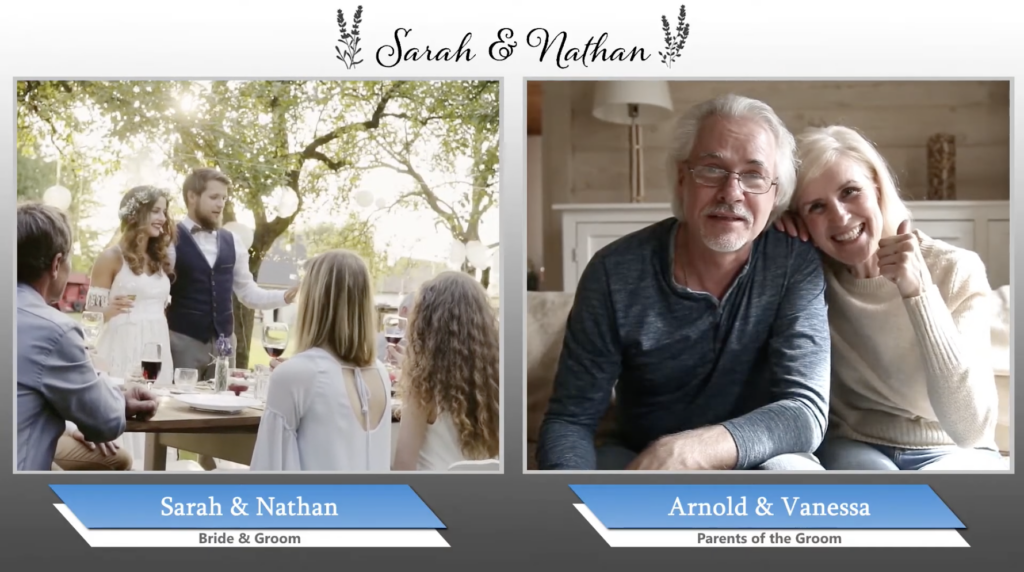 Below the video feed screen is a session info box where we can place information about your wedding, the agenda, pictures or other information. On the right is a chat box that can be turned off and allows the online participants to chat with each other. You can also make the video full screen to maximize screen space for speeches. We can also have the bride, groom and their guest speaker in two squares with their name and titles underneath.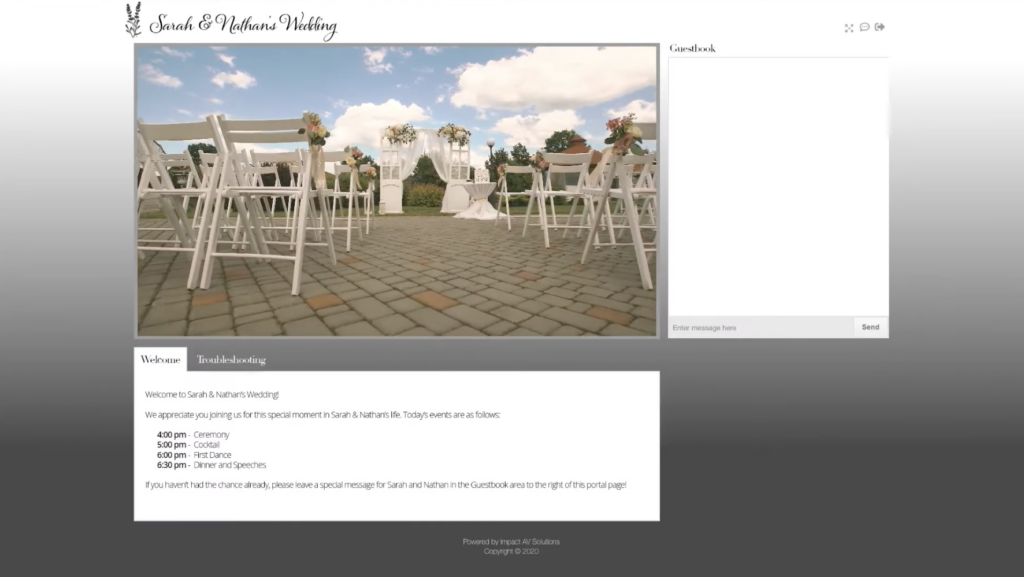 The bride and groom's guests can share their speeches in real time from the comfort of their own offices or homes, along with a live DJ. A sound system can be provided for announcements, introductions, background music and formal dance music. 
After your big day is finished, an HD recording of your wedding will be given to you so you can look back and share your virtual wedding years from now with your friends and family!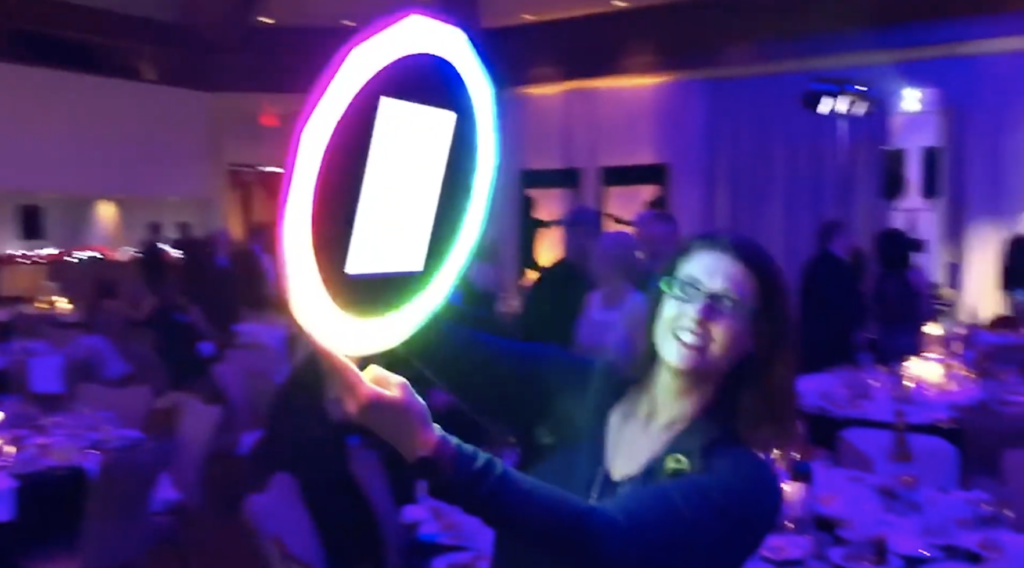 Let the pros at Impact DJ handle it all! Packages are available today, ranging from a simple broadcast to a roaming hello booth where you and your remote guests can chat live. Call or email today and start planning your wedcast.